California Decks Built with Ipe
We sell so much Ipe decking in California because, as an international importer of high-grade hardwoods, we are able to offer the highest-quality Ipe deck boards at prices our competition just can't match. Many of our Californian customers have such a wonderful climate that they're able to enjoy their Ipe deck all year round. It's no wonder Ipe is the preferred choice for California decks!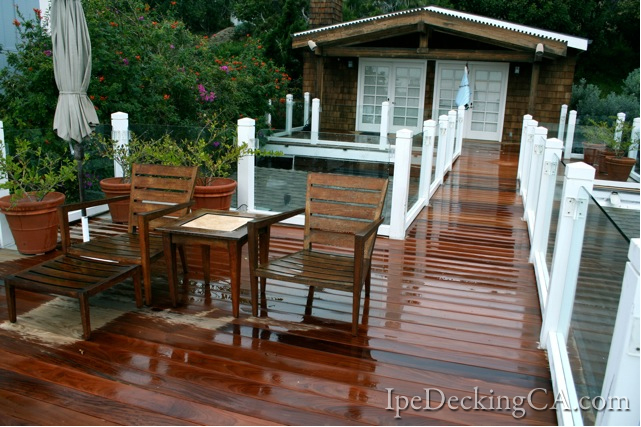 Ipe (pronounced EE-pay), or Brazilian Walnut, is an extremely worthwhile wood to consider for your California deck. If you're like most of our customers, you know a renovation project like this needs to be completed with the finest, most durable decking material. No other hardwood fits the bill like Ipe. Ipe comes with natural resistance to mold, fungus, insects, fire, and decay.
Ipe is much denser than other hardwoods and is over three times stronger than more expensive species like teak. Also, because of the high price of foreign oil, Ipe is cheaper than composite decking. Unlike other hardwoods, Ipe doesn't require constant maintenance and preservative treatments.
Choosing Ipe for your California deck is a great investment for these reasons:
Ipe lasts for decades without having to be replaced
Ipe is splinter-free thanks to its strength
Ipe is 100% natural and devoid of chemicals, unlike treated wood and PVC
Ipe won't fall apart over time like composite decknig does
Ipe is less likely to be attacked by wood eating insects
Ipe naturally resists mildew and mold better than composites
Ipe Decking CA
Contact us today to order from our Ipe decking inventory if you are building a deck, gazebo, dock, pier, bench, or other home renovation project where durable and resilient material is desired. We carry all kinds of Ipe decking accessories. We can even create custom pieces to your specifications. And remember, we may specialize in Ipe decking but we also sell other premium hardwoods such as Cumaru, Tigerwood, and Garapa.